Look on this page for events, tickets, and donating & volunteering opportunities for Scottish Rite masons.
Masons4Mitts
Every year during baseball season, masons of California are invited to participate in a long-standing charitable program we call, Masons4Mitts. This program provides a free baseball mitt, participation in baseball games, leadership program, and much more for children in need. Our donation to the program is put to great use. Masons of California should be proud of this endeavor providing relief and support for our children.
A donation of $20 buys one mitt. Please extend your fraternal generosity to provide for this program here: GIVE A MITT
Raising A Reader
Since 2011, Masons of California has been supporting Raising A Reader.
The California Masonic Foundation's mission is to apply masonic principles in support of education, leadership, and communities through several important programs that touch the lives of thousands each year.
Raising A Reader provides free books to children and helps parents develop shared reading habits with their children. Masons of California is a Featured Partner. Click here to find out more and to give to… Raising A Reader's Power of Partnership Program.
Scottish Rite Research Society
ABOUT THE SOCIETY
'Studying our past to illuminate our future'
The Scottish Rite Research Society® (SRRS) was formed on May 8, 1991, when fourteen Scottish Rite Freemasons were granted a charter by the Supreme Council, 33°, S.J. The administrative offices of the SRRS are at the House of the Temple in Washington, D.C., under the Supreme Council of the Scottish Rite. Activities and publications of the Society are governed by a Board of Directors, who are all Life Members of the Society, representing Scottish Rite valleys across the country.
Since its formation in 1991, the Society has become one of the most dynamic forces in contemporary Masonic research, pursuing a publication program that emphasizes quality—both in content and in physical form. The Society has grown to over 4,000 members worldwide since inception. Its publications have redefined the standards of Masonic scholarship. Anyone who is interested in deepening his or her understanding of Freemasonry would benefit from Society membership. One need not be a member of the Scottish Rite, or even be a Mason, to join the SRRS. Life Memberships are available by visiting our membership page.

WSB Club
"Wisdom to contrive, Strength to support, and Beauty to adorn all great and important undertakings."
What is the WSB Club?
The goal of the WSB Club is to fund the development of new programs and tools to enhance communications, education, and information for Scottish Rite Freemasonry. The WSB Club strives to be a booster club for successful Membership Programs.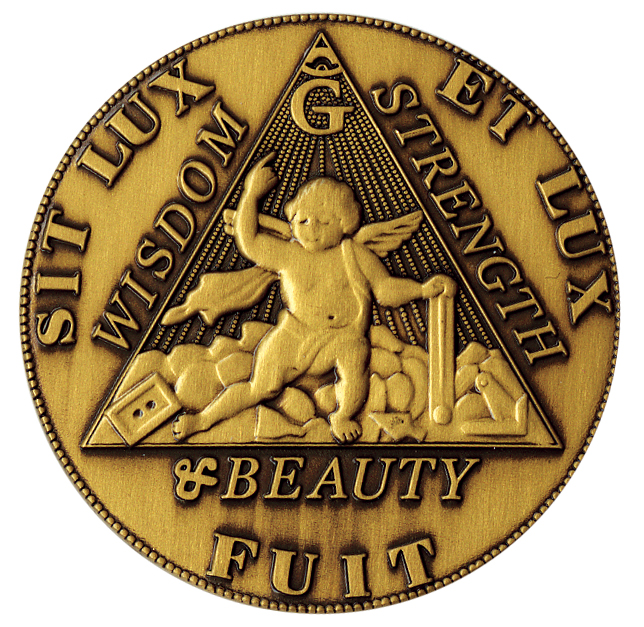 For supporting the WSB Club, members will receive an exclusive regular e-mail newsletter with tons of never-before-seen Scottish Rite content including videos, photos and articles. WSB club members will also be given the chance to participate in surveys and act as beta testers for exciting new programs. In this way, WSB members will help to decide which new programs will be put into use throughout the Southern Jurisdiction. Finally, WSB club members will be given a private email address to use to contact the Membership Services Department for insider access at any time.
WSB Club members can connect with each other on Facebook and via a member's only smartphone app. Members are part of a growing community of Scottish Rite Masons dedicated to supporting the Scottish Rite in all its endeavors.
Membership Fees
Sustaining Memberships: $133.
(includes numbered WSB Medallion, a WSB token, lapel pin, and window sticker)
General membership: $33
(includes WSB token and lapel pin)
To purchase a WSB membership, please visit: http://www.freemasonnetwork.org/wsb